Family Dental Services in Palmer, AK
Whole-Body Dental Care and Treatment
Stress less with non-toxic, accommodating dental services.
Choose the Best Dental Care for Your Family
If you're passionate about clean living, then Evergreen Dental is the right kind of dentist for you. We provide a full range of dental services dedicated to keeping your teeth healthy, beautiful, and functional. We cut out toxins and unnecessary invasive procedures when unnecessary. And we are strong believers that your oral health starts with a healthy lifestyle at home.
Whole-Body Dental Services and Expert Treatment in Palmer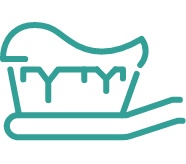 Routine dental care is the cornerstone for a healthy mouth. With a solid dental routine and regular dental exams and cleanings, you can extend the longevity of your teeth and prevent issues down the road. Come take the whole family to our office for your bi-annual dental appointments!
If your dental health needs some work, we've got your back! Haven't seen the dentist in years? We're here to help – not judge. Come see us for missing or damaged teeth, dental decay, gum disease, and any other issues you're experiencing. Get natural, clean care that puts your health first.
We want you to love your teeth and feel confident in showing off your smile. If stains, crooked teeth, tooth gaps, or other cosmetic issues have you feeling camera-shy, come visit us! We'll help make your smile goals a reality.
Dental emergencies are issues or mishaps that need immediate care. If you knock out a tooth, get a major crack or chip, have an infection, or experience a lot of pain, don't wait to call us! We're here when dental emergencies happen. Call us and we'll get you in ASAP.
Your oral health goes beyond your teeth. Your stress levels, habits, lifestyle, and genetics all play a role. We have a deep understanding of every aspect of your oral health – including its effect on your overall wellbeing. See us for TMJ therapy, sleep apnea, and more.
Fight Cavities Not Traffic
Dread the long drive into town to see a dentist that provides the care you deserve? We totally get it!
With Evergreen Dental in your hometown, you can start your trip on the right foot.
Don't settle for less-than-amazing care.
What Other Palmer Residents Have to Say
"Our experience at Evergreen Dental was relaxed and welcoming, I was able to schedule our whole family efficiently. I love the convenience of having high quality dental care so close to home. The staff at Evergreen treated our family with kindness and we will definitely be back again."

AG